Arts and Crafts
The history of the Sydney Royal Arts & Crafts competition dates back to early colony times when there was a strong desire by the Agricultural Society to 'improve taste and develop the artistic faculty' of the colony.
The first Arts & Crafts entries were in 1869 in the 'Works of Art' section and included painting, drawing and models. By 1888 women's crafts were included—needlework, knitting, spinning and leatherwork—which saw the competitions well and truly underway.
Recognised today as the biggest Arts & Crafts competition in Australia, attracting over 4,900 entries in almost 300 classes, the competition is honouring the creative men and women of the past 150 years with feature displays of craft through the decades. In no other forum do so many crafts come together in one incredible display.
Key Dates

Results

Exhibitor Information

Under 20s Classes

Arts Preview

Supporters

Subscribe
Mid-November 2023
Entries Open
17 January 2024
Entries Close
31 January 2024
Finalise Sale Status/ Price/ Titles of Exhibits
8 & 9 March 2024 9:00AM - 3:00PM
Delivery Days
20 March 2024 6:00PM – 9:00 PM
Arts Preview
22 March 2024 1:00PM
Perishable Cooking Judging
22 March - 2 April 2024
Sydney Royal Easter Show
5 & 6 April 2024 9:00 AM – 3:00 PM
Collection Days
Sydney Royal Competitions encourage and reward excellence, with the aim to support a viable and prosperous future for our agricultural communities.
The Arts & Crafts results search function lists winners only.
More details of exhibits can be found in the Catalogue. The Standard of Excellence list notes those Exhibits selected for display in the Standard of Excellence Cabinet.
2023 Arts & Crafts Catalogue
2023 Arts & Crafts Standard of Excellence
Popular Choice Awards
Congratulations to Ms Lily Lockwood (117), voted most popular by a public ballot for Rural Subject &/ or Landscape Painting.
Congratulations to Mrs Anita Ghevondian (3120), voted most popular by a public ballot for Cake Decorating & Sugar Art.
Competition Schedule
Check the 2023 Competition Schedule for instructions, regulations and general information. The 2023 Schedule is available on the Key dates & Schedule page.
Online entries
Open November 2023 and close January 2024.
Enquiries relating to entries may be sent to arts@rasnsw.com.au.
Judging
All judging for the Arts & Crafts Competitions is done pre-Show and is closed to the public with the exception of the Perishable Cooking Judging, which is on the first day of the Show, in the Arts and Crafts Pavilion.
Judges in the Arts & Crafts Competition are high-profile, well established figures from the arts and crafts industry. They may include eminent artists, Archibald Prize winners, gallery owners and other highly regarded figures from the arts. Craft judges are chosen from recommendations made by representative bodies from each craft category.
Here at the Sydney Royal Art & Crafts Show, we celebrate the boundless creativity of young artists and crafters like you. These competitions are your canvas, and your imagination is the only limit. Whether you're aiming for the top prize or just want to share your passion with fellow young artists, this is your platform.
You can find the Under 20's Section within the 2024 Arts & Crafts Schedule, please note this is not a separate competition to the Sydney Royal Arts & Crafts Show and exhibitors under the age of 20 are welcome to enter the open aged classes if they wish.
We have 49 Under 20's Classes for you to enter within an array of Categories/Sections:
Artwork
Photography
Ceramics and Pottery
Needlework
Hand Knitting and Crochet
Homewares
Patchwork, Appliqué
Scrapbooking
Soft Toys
Mosaic
Woodwork
Leather Work
Quilling
Calligraphy
Cake Decorating
Preserves
Perishable Cooking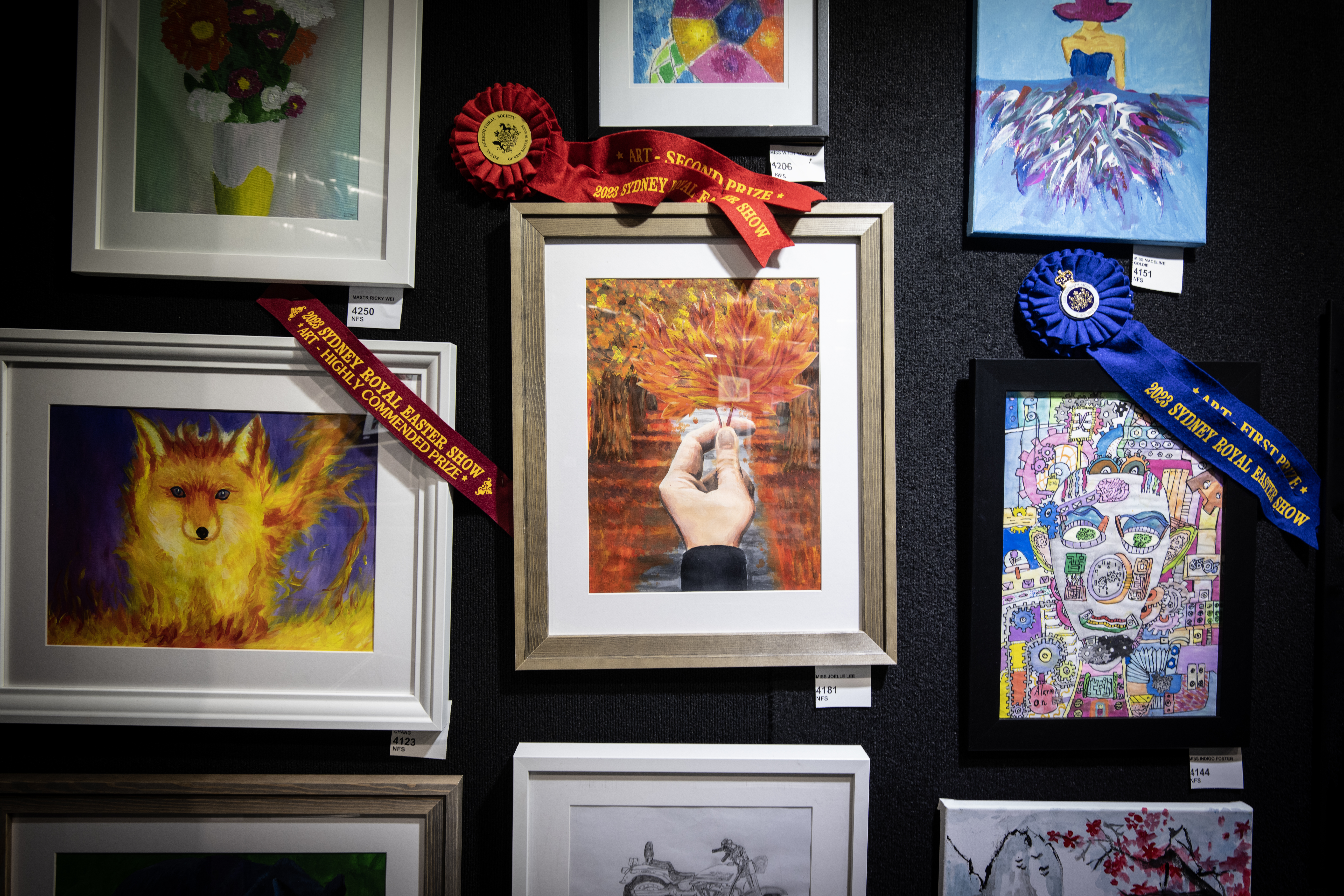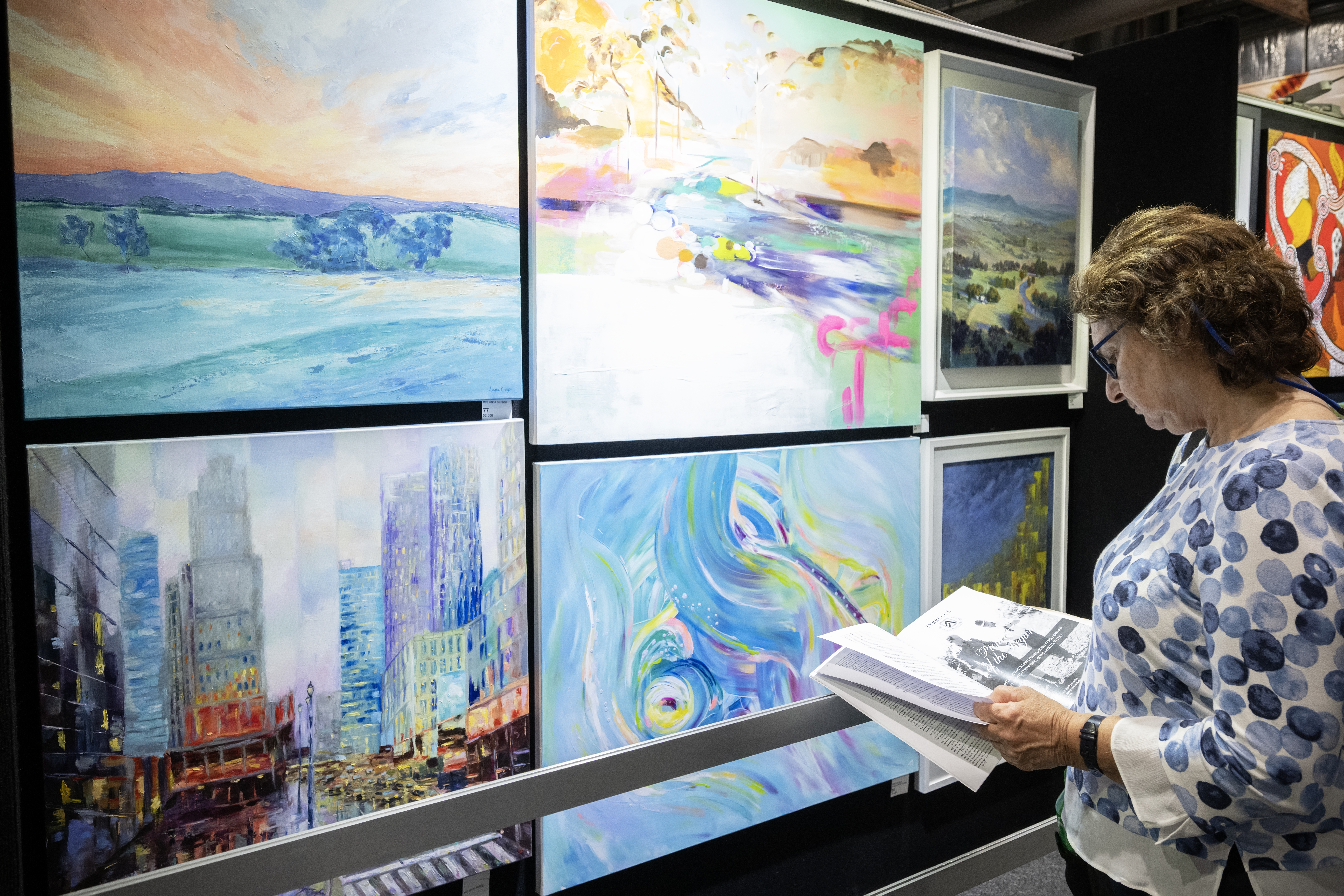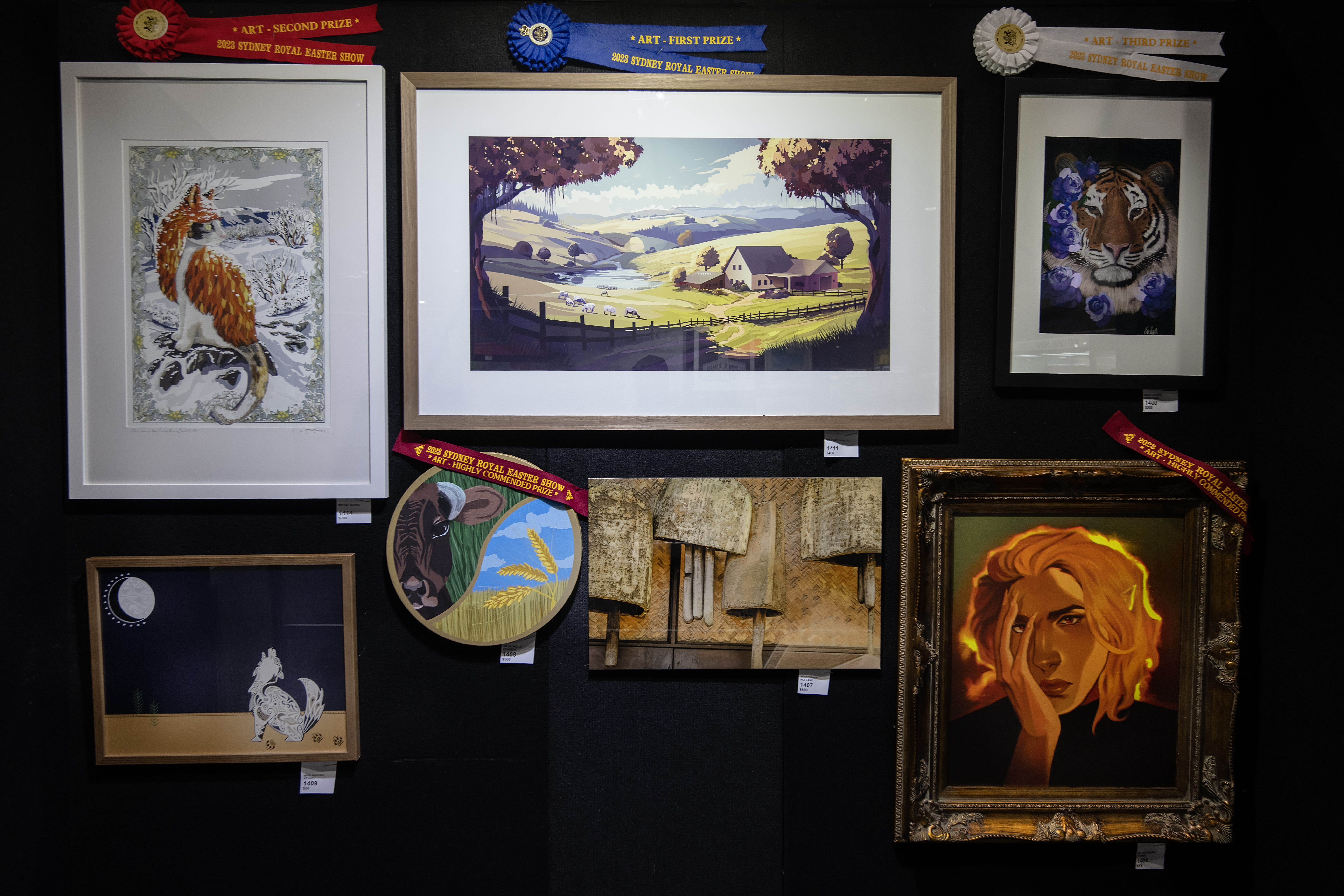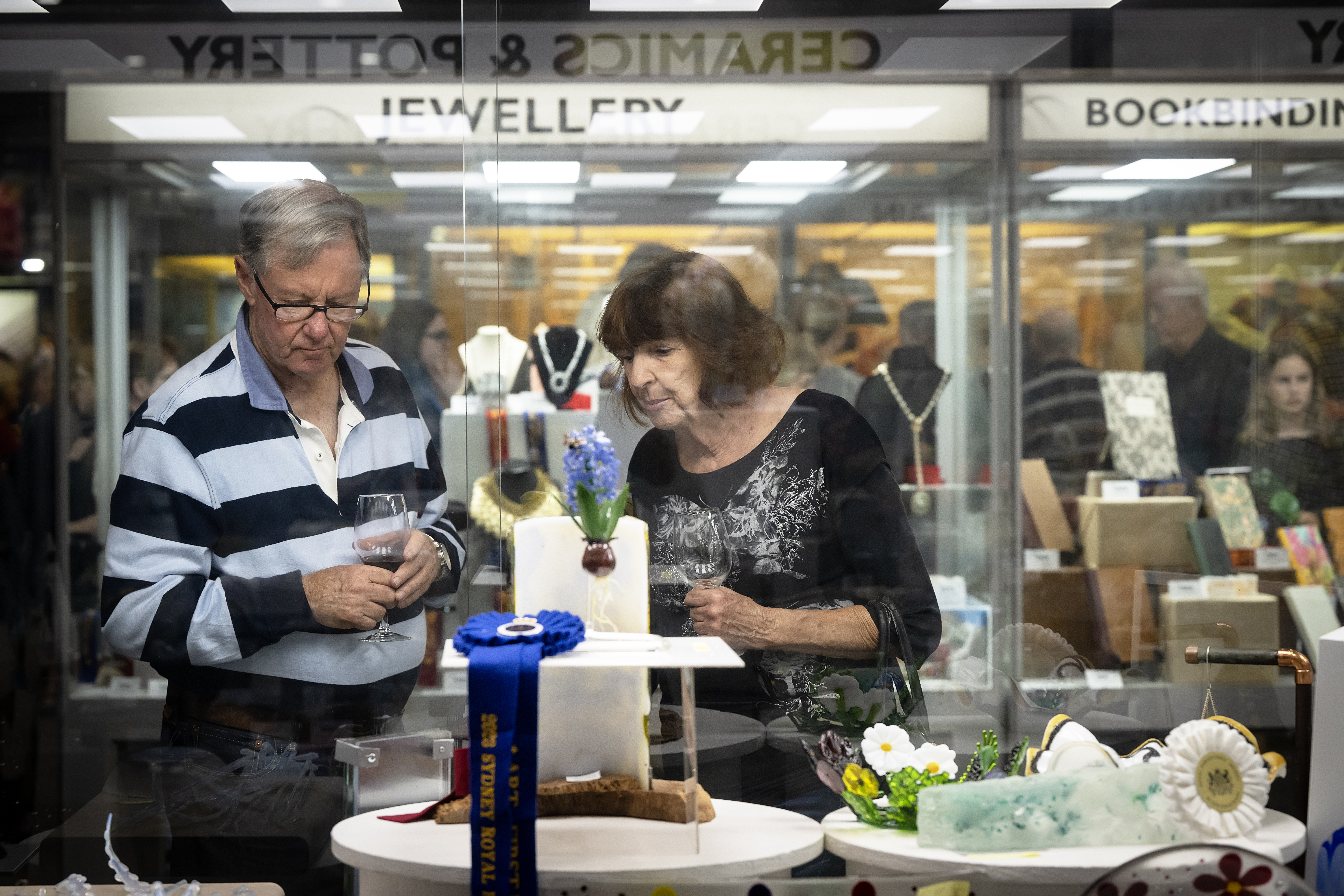 Sponsor
The Royal Agricultural Society of NSW gratefully acknowledges the Sponsor of the Sydney Royal Arts & Craft Show, Derivan and Sunbeam Foods for sponsoring the Non- Perishable Cooking Competitions.
Supporters
The Royal Agricultural Society of NSW gratefully acknowledges donations, prizes and trophies awarded throughout the Arts & Crafts Competition at the 2024 Sydney Royal Easter Show from the following supporters:
Alison Renwick
Anne Lang
Australasian Porcelain Art Teachers NSW
Australian Society of Calligraphers
Australian Textile Arts & Surface Design Association Inc
Birdsall Leathercraft
Cake and Sugar Artists of NSW Inc
Cake Decorators' Association - Chatswood Branch
Cake Decorators' Association of NSW Inc
Cake Decorators' Guild of NSW Inc
Ceramic Study Group Inc
David Stuart-Wright
Doll Collectors' Club of NSW Inc
Dr Mark A Schembri
Embroiderers' Guild NSW Inc
Embroiderers' Guild NSW Inc Junior Stitchers Group
Embroiderers' Guild NSW Inc Wollongong Group
Friends Through Folk Art Guild Inc
Hand Weavers & Spinners Guild of NSW Inc
Hat Academy
Hat Blocks Australia
Hatters Millinery Supplies
Jane Gibson
Janis Boon
Kate Anderson
Knitters' Guild NSW Inc
Lorance Angus OAM
Macknit Inc NSW Machine Knitters Association
Marian Jones
Mary Hollingworth
Millinery Australia
Mrs Rita Williams
NSW Guild of Craft Bookbinders Inc
QuiltNSW
Saddlery Trades Australia
Sandra Reid
Simon & Julia Tregoning
Smocking Arts Guild of NSW Inc
Sophie Mollace
Spinners Haven
Sydney Woodturners Guild Inc
The Jones Family
The Pollard Family
The Whitelaw Family
Wailyn Mar
Woodworkers Association of NSW